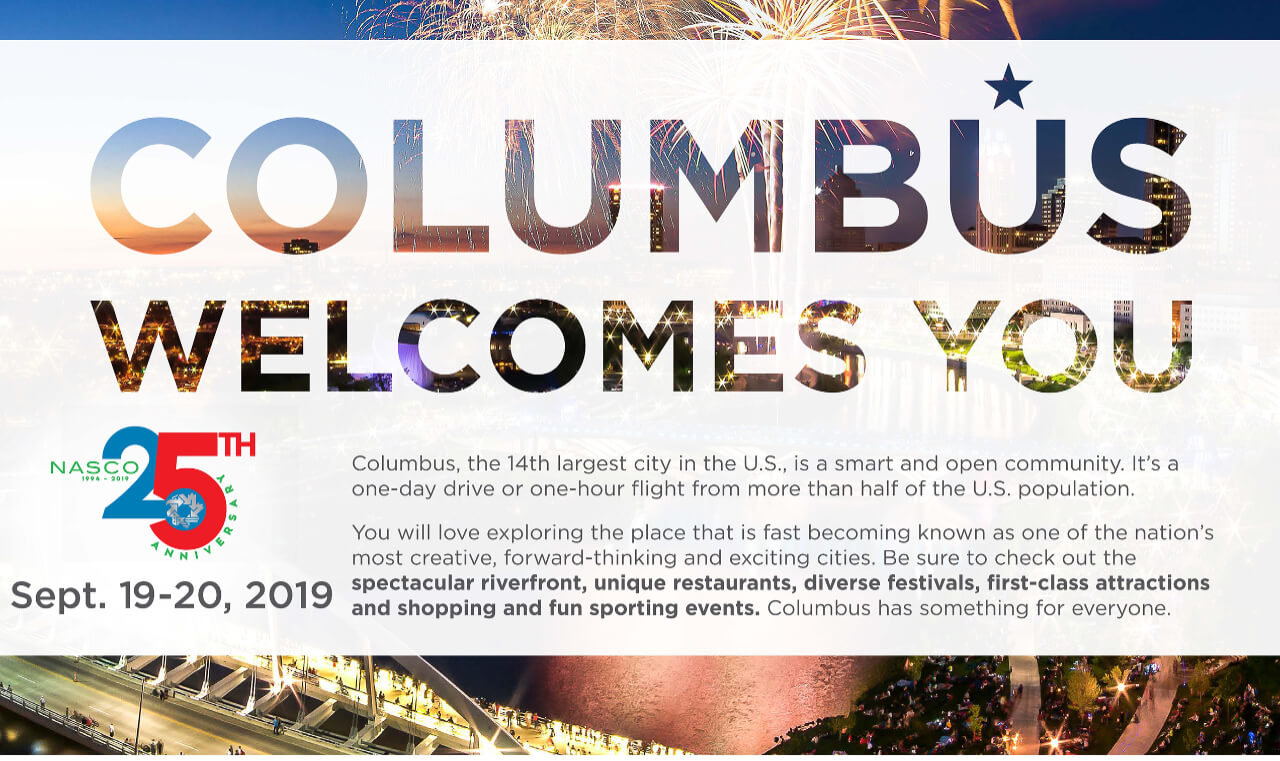 2019 NASCO Continental Reunion 
September 19-20, 2019
Columbus, Ohio
Event Cost:
NASCO Member Rate // $599.00 USD
Non-Member Rate // $699.00 USD
Academia Rate // $499.00 USD
Government Rate // $499.00 USD
All registrations include the following: 
2 breakfasts, 2 lunches, 2 receptions/dinners
We try to keep our conference fees at a very reasonable rate. We are mindful most of our members and partners are already paying for travel and hotel, often outside the country. Registrations are refundable one month prior to the event, and transferable after that date.

Wednesday, September 18, 2019 
NASCO Board of Directors Meeting (by invitation) 
VIP Welcome Reception at North Bank Park Pavilion
Thursday, September 19, 2019
Program Day 1 at Hyatt Regency Columbus
Evening at Franklin Conservatory
Friday, September 20, 2019 
Program Day 2 at Hyatt Regency Columbus
Evening at The Loft at dock580
Saturday, September 21, 2019 
Tailgate Party + Ohio State Football Game
NASCO Board of Directors Meeting (by invitation)
VIP Welcome Event for former Prime Minister of Canada Stephen Harper (by invitation)
VIP Keynote Breakfast
Featuring The Rt. Hon. Stephen Harper, Fmr. Prime Minister of Canada
Plenary Session: "AFTA' NAFTA"
This high profile panel will discuss the current status of USMCA/CUSMA/T-MEC and provide insight as to a vision for the next generation of North American value chains and workforce professionals.
SPEAKERS:
Pat Tiberi
President & CEO, Ohio Business Roundtable, Columbus, Ohio
Brian Kingston
Vice President Policy, International and Fiscal, The Business Council of Canada, Ottawa, Ontario
Sergio Gomez Lora
CEO, IQOM, Houston, Texas
The NASCO Connection
A "trade" focused presentation by a NASCO Partner that is innovative and reflective of the next step in North America.

Highlight: The North American Trade Dashboard  
Matthew Rooney, Managing Director, Bush Institute-SMU Economic Growth Initiative, George W. Bush Center 
NASCO Supply Chain Borders Report Out Project Discussion
Jennifer Fox, Vice President International Trade Policy & Canada Relations
Luncheon Keynote
Government of Mexico Official (Pending) 
From the North American Production Platform to the Hub of Global Mobility
Tom Shoupe
Executive Vice President
Honda of America MFG., Inc.
Marysville, Ohio
Plenary Session: A Smarter North America
This panel will expand on the discussion of mobility in North America and examine key sectors/verticals that are global leaders in "smart" innovations such as energy, environment, supply chain management, and infrastructure.
MODERATOR:
Patrick Smith 
Interim Lead, Drive Ohio 
SPEAKERS:
Shari Diaz
Ecosystem and Innovation Leader, Watson Supply Chain, IBM Corporation
Columbus, Ohio 
Sarah Houde  
CEO, Propulsion Quebec 
Montreal, Quebec 
Fed-Ex Senior Executive (TBC)  
Memphis, Tennessee 
The NASCO Connection
An "supply chain/technology" focused presentation by a NASCO Partner that is innovative and reflective of the next step in North America.  
Highlight: Edmonton Metro Region Connectedness
Malcolm Bruce, CEO, Edmonton Global and Ken Brizel, CEO, ACAMP
End of Day Keynote
Guillermo Fernandez 
CEO, The United States-Mexico Foundation for Science (FUMEC) 
Mexico City, Mexico 
The Wells Barn + Garden at Franklin Conservatory
Franklin Park Conservatory and Botanical Gardens is central Ohio's premier botanical garden and home to the iconic John F. Wolfe Palm House which dates back to 1895. A 200-year-old, hand hewn timber frame from a Richland County barn provides the framework and inspiration for the one-of-a-kind Wells Barn venue. 
Registration and Continental Breakfast
Plenary Session: The North American Advantage in the Next 25 Years
This panel will feature site selectors, financial professionals and companies that have expanded their investment in North America to detail the advantages that they see in North America over the next 25 years.
MODERATOR: 
Eric Walsh 
Director General, North America Strategy, Global Affairs Canada 
Ottawa, Ontario 
SPEAKERS:
Marc Beauchamp
President and CEO, CAI Global
Montreal, Quebec
The NASCO Connection
A "Mexico" focused feature presentation by a NASCO partner that is innovative and reflective of the next step in North America. 
Highlight: Interpuerto Monterrey and Foreign Trade Zones in Mexico 
Mauricio Garza, Director General, Interpuerto Monterrey 
U.S. Senator Sherrod Brown (D-OH) or U.S. Senator Robert Portman (R-OH) 
$20
Morning Keynote: Innovative Workforce Solutions 
Penny Naas
Vice President, International Public Affairs, UPS
Washington, D.C. 
The NASCO Connection
A "workforce" feature presentation regarding an interesting program by a NASCO partner that is innovative and reflective of the next step in North America. 
Highlight: Purdue Cybersecurity Apprenticeship Program 
Brad Bentley, President, FASTPORT
$20
The NASCO Impact
Workforce Report-Out
Francisco Martinez, Vice President, Mexico Relations
Luncheon Keynote: Welcome to San Luis Potosi in 2020
WTC Industrial / Government of SLP hosts of the NASCO Reunion 2020    
Premier + Governor Fireside Chat
Doug Ford
Premier of Ontario   (Invited) 
Jason Kenney
Premier of Alberta   (Invited) 
François Legault
Premier of Quebec   (Invited) 
Mike DeWine
Governor of Ohio   (Invited) 
Juan Manuel Carreras
Governor of the State of San Luis Potosi  (Invited) 
Plenary Session: Sleepless in North America
A panel with experience behind-the-wheel, engineering, planning and international trade/brokerage will highlight the overlooked importance of truck parking to the efficient operation of the supply chain. 
MODERATOR:
Scott Grenerth
Truck Specialized Parking Services, Inc.
Detroit, Michigan 


SPEAKERS:
Kellylynn McLaughlin
Training Engineer and Driver, Schneider National
Dallas, Texas 
Kim Campbell
Chairwoman, I.E. Canada
Toronto, Ontario 
Thomas Phelan 
Principal, BHX Engineering 
Parsippany, New Jersey 
Explore the Short North District -- The Art + Soul of Columbus
Short North Arts District is a hip, culture-rich area centered on N. High Street. Contemporary galleries fill converted warehouses, and the Wexner Center for the Arts hosts boundary-pushing exhibitions. Shops selling records, streetwear, and vintage clothes are interspersed with student-packed coffeehouses, craft-beer bars, and casual eateries.
Tailgate Party
Sponsored by: Roetzel Law Firm 
Ohio State Buckeyes vs. Miami Red Hawks
We offer an array of customized (and memorable!) sponsorship opportunities at our NASCO Reunion. If you are interested in more information please contact Rachel Connell.