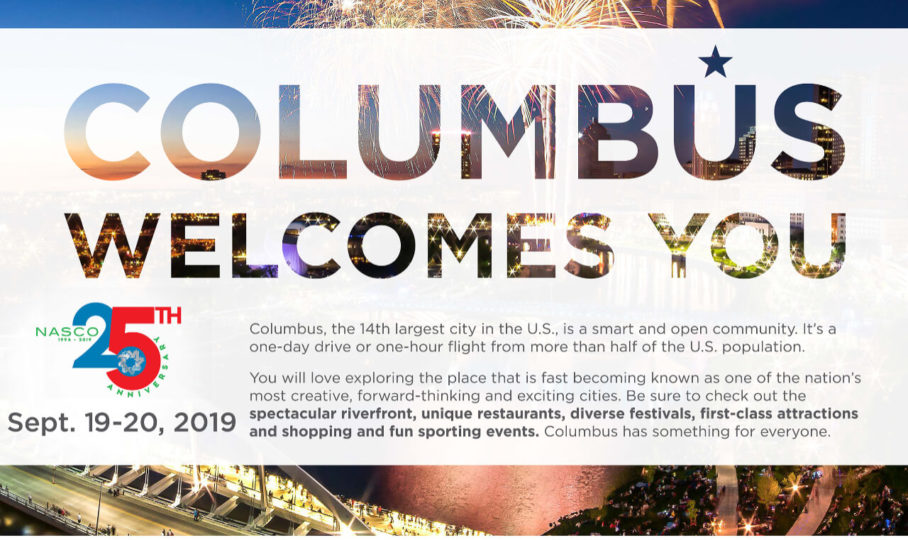 Wednesday, September 18, 2019
NASCO Board of Directors Meeting (by invitation)
VIP Welcome Reception at North Bank Park Pavilion
Thursday, September 19, 2019
Program Day 1 at Hyatt Regency Columbus
Evening at Franklin Conservatory
Friday, September 20, 2019
Program Day 2 at Hyatt Regency Columbus
Evening at The Loft at dock580
Saturday, September 21, 2019
Tailgate Party + Ohio State Football Game
2019 NASCO Continental Reunion 
September 19-20, 2019
Columbus, Ohio
Event Cost:
NASCO Member Rate // $575.00 USD
Non-Member Rate // $675.00 USD
Academia Rate // $499.00 USD
Government Rate // $499.00 USD
Marketing Partner Rate // $575.00 USD
All registrations include the following: 
2 breakfasts, 2 lunches, 2 receptions/dinners
We try to keep our conference fees at a very reasonable rate. We are mindful most of our members and partners are already paying for travel and hotel, often outside the country. Registrations are refundable one month prior to the event, and transferable after that date.
Hyatt Regency Columbus 
350 North High Street
Columbus, Ohio 43215
Tel (614) 463-1234
Book your room online under our NASCO room block.
To make your reservation over the phone, please call 1-888-591-1234.
Our special rate is $179 USD for a King room.
Located within walking distance of Nationwide Arena and the trendy Arena District, Hyatt Regency Columbus redefines the modern hotel experience. Connected to the Greater Columbus Convention Center and steps to the Short North Arts District, ours is the hotel in which to meet and play in downtown Columbus.
To say that the Columbus Region is well situated is an understatement. Located within a one-day drive or a one-hour flight of nearly half the population of the U.S. and Canada, the Columbus Region is perfectly positioned to connect you and your business with its most important resources.
Centrally located in Ohio with a diverse mix of air carriers, John Glenn Columbus International Airport is the airport of choice for millions of passengers each year. The airport is operated by the Columbus Regional Airport Authority, which also oversees the operation of cargo-dedicated Rickenbacker International Airport and general aviation airport Bolton Field.
You'll also find that travel within the City is a breeze. Whether you're biking, driving or taking public transit, our roadways and transportation systems are safe, modern and well maintained.
SPONSORS
We offer an array of customized (and memorable!) sponsorship opportunities at our NASCO Reunion. If you are interested in more information please contact Rachel Connell.